You're looking for a place to springboard your organization's talent and ideas into the marketplace, and you need research and development resources close at hand.
You need a workforce prepared for the next stages of the roadmap, and it would be great if they're familiar with the territory.
You need a community of trailblazers with valuable insights in an atmosphere of collegial input.
It's all here.
The Epicenter of Innovation and Entrepreneurship
Since the 1980s, Northern Virginia has developed into a world center for cloud computing, web services, internet applications, and more. The proximity of Mason Square to Arlington's technology corridor and downtown Washington, D.C. allows us to amplify existing innovation in the region. As the region's preeminent institution of higher education, Mason is ideally suited to convene all the key actors in the innovation and entrepreneurship cycle, from researchers to entrepreneurs to investors and more.
We are giving tech companies access to:
State of the art research and development platforms
Tech talent development and curation
New venture studios, incubators, and accelerators
Co-working facilities
Corporate innovation centers
Angel and VC investors
Community centered convening and collaboration spaces
This 20-year plan is designed to produce 25,000 additional graduates in computer science, computer engineering, and software engineering.
Build the Workforce
George Mason University confers more computer science degrees than any other institution in Virginia. We have committed ourselves to producing 7,500 additional graduates in these fields by 2039. To accomplish this, we are expanding our academic programs, faculty hiring, and student enrollment. We're also re-imagining pathways to tech workforce development by providing collaborative research-learning environments with industry-leading organizations.
Grow New Ideas
Arlington has been repeatedly named the "Top Digital County in America" for counties its size. Mason is both the most innovative and most diverse university in Virginia, according to U.S. News & World Report. The combination of these two powerhouses seems only natural, creating an environment in which new ideas are born, develop, and flourish. Maybe that's why Mason has become home to research centers from a variety of fields, including policy, technology, innovation, and security.
Involve the Community
Mason is fueled by diverse perspectives. We've made a name for ourselves by engaging community stakeholders in active dialogue, in our activities, and in our direction. Now, at Mason Square, we are building a forum to shape the future of our digital society, promoting equality, wellbeing, security and prosperity, and the community is invited.
The Team Fueling the Effort
The Institute for Digital InnovAtion (IDIA) is the driving force behind Mason's vision for Arlington's future.
IDIA will support partnerships with academic, business, and community stakeholders across all three Mason campuses, structure cross-curricular collaborations on research and technology development, and guide participation by faculty, staff, and students.
Bringing the Vision to Reality
To build the future, you need a space equipped to handle the future. Mason's work on Fuse is creating a space prepared not just for the needs of the current market, but for the needs of the future.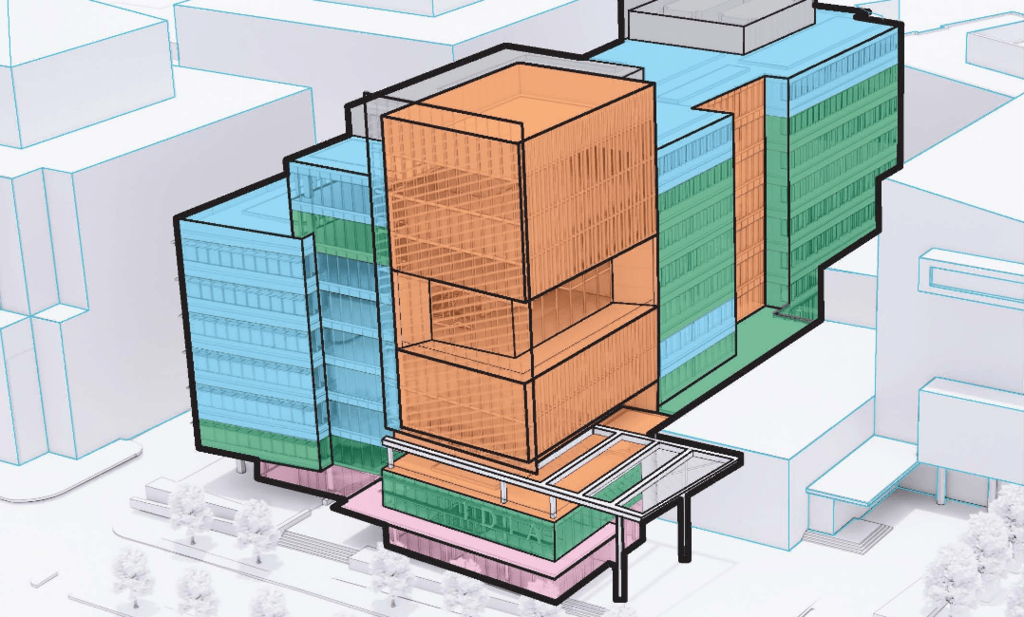 The Fuse Building
Fuse is designed to catalyze interactions between digital innovators, researchers, and entrepreneurs. The project is a public-private partnership that will drive curated interaction between Mason researchers and a spectrum of technology companies, and increase the pipeline of highly qualified graduates for the technology sector. The building includes specialized labs for robotics, VR, simulation, and security data visualization; collaborative spaces that draw together research labs and business offices; and community programming space in a double-height atrium.
Our Working Proof of Concept: The Digital Innovation Pilot Space
Don't wait to get involved. George Mason's Institute for Digital InnovAtion is up and running with a cross-functional pilot space that's already pushing the boundaries of next-gen tech. Lessons learned from pilot activity will be folded into methodologies and programming throughout the larger Mason Square development. Want to get in on the ground floor? It's happening at Vernon Smith Hall right now.
We are already delivering groundbreaking research in areas such as:
Autonomous vehicles
Health information systems
Cybersecurity
Analytics and big data
Additive manufacturing
5G and 6G networks and telecommunications